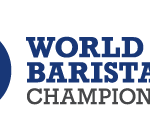 This week sees the World Barista Championship taking place in Vienna. You can follow the proceedings live on new.livestream.com/worldcoffee
The World Barista Championship (WBC) is the preeminent international coffee competition produced annually by World Coffee Events (WCE).The competition focuses on promoting excellence in coffee, advancing the barista profession, and engaging a worldwide audience with an annual championship event that serves as the culmination of local and regional events around the globe.
Each year, champions representing more than 50 Nations each prepare 4 espressos, 4 cappuccinos, and 4
original signature drinks to exacting standards in a 15-minute performance set to music.
WCE Certified Judges from around the world evaluate each performance on the taste of beverages served, cleanliness, creativity, technical skill, and overall presentation. The ever-popular signature beverage allows baristas to stretch their imagination and the judges' palates to incorporate a wealth of coffee knowledge into an expression of their individual tastes and experiences.
The top 12 competitors from the first round advance to a semifinal round. The top 6 competitors in the semifinal round advance to the finals round, from which one winner is named World Barista Champion!
For more information check out worldbaristachampionship.com